NTRAK Connector and
Wiring Recommended Practice:
an Alternate Standard for NTRAK
Contributed by Doug Stuard, NVNTRAK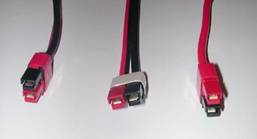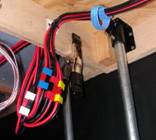 Anderson PP30 Powerpole® Connector
In early 2004, while surfing some ham radio sites, I came across the Anderson Powerpole® connector, a connector that looked like it would be a natural for use in modular railroad applications. The more I investigated it, the better it looked, particularly considering some of the issues and limitations associated with the existing Cinch-Jones connectors. At the National N Scale Convention in Chantilly, VA that August, I discussed the concept with Jim FitzGerald, Martin Myers, John Wallis and others, who felt that it might be worth looking into. The result was a proposal offered to NTRAK Inc. for an alternate (not a replacement) connector for NTRAK use.
In the year following the Chantilly convention, a group of NTRAKers under the guidance of Jim FitzGerald evaluated the Powerpole connector on paper, on the test bench, as well as in layout applications. After some discussions on wiring techniques, track feeds, power distribution and related issues (and with some minor adjustments), a proposed Recommended Practice (RP) for wiring and connectors emerged which was announced in the July/August 2005 NTRAK Newsletter.
Perhaps the best way to present this alternative is to refer to the original proposal as well as some of the "spin-off" documents that were developed during the evaluation:
The Proposal - introduces the Powerpole connector and its proposed application for modular model railroad use.
Crimp Tools – a look at some of the tools available that can provide solid, reliable crimped attachment of Powerpole connectors.
FAQs – a Q&A list of many of the topics that came up during the proposal evaluation (and some that didn't).
Hopefully the key points of this alternative have been covered in one or more of the above documents. If your question isn't here (in one form or another), or you have other comments (either onions or orchids), e-mail me!