RECOMMENDATION 12-3: Lighting Passenger Cars
Considerations of Using Lighted Passenger Cars:
Be sure if you are using lighted passenger cars, that reversing sections are longer than the longest train you will be running. You have probably heard that if a train is entering a reversing section at the same time as one is leaving, this will cause a short and shut the booster down. A lighted passenger car will do the same thing. So make sure your reversing sections are long enough.
How many passenger cars can be run on DCC?
If you only have a dozen or less passenger cars, you probably don't need to worry much about the load the passenger cars will be putting on the booster(s). However, should you be so fortunate to have many more than that, the math is simple.
Booster current (usually 3.5 or 5 A) - the load of the locomotives (usually approx 3/4 A) - (# of lit cars x their current draw (maybe .2A))
My estimates above should be a bit on the high side.
Definitely buy the 5A boosters. You can even buy the 8A boosters, but I don't recommend them for HO or smaller unless you really need to. Instead, break the layout into smaller sections that can be handled by a 5A booster. Note: Idle locomotives only may draw .2A or less. Idle, lights off, and no sound, definitely less.
Do you want every car lit?
Or only those part of an active train, or soon to be active. If you want them off, you may want to go as far as putting a decoder into each car. That's convenient, if not inexpensive. You could hook them the cars to save money on decoders, but I find that wires between cars are a fair amount of trouble. If you can afford decoders, I'd go that way.
Or you could park them on tracks in a yard or whatever and use a toggle switch to kill the power to that track.
You should figure out how much current your cars will draw. I haven't done a lighted passenger car yet, but I suspect the average modeler would want it dimmer than the average toy passenger cars that I had when I was a kid. So light a car any way you want that gives you the desired effect and measure how much power it draws at about 14V.
What if I don't want to use a decoder?
You, for the most part, can simply run a lighted passenger car directly from the DCC track! In HO and smaller, it's that simple!
Those running O or G, may want to use 19V LGB light bulbs; if you can find them. Or you can use 14V bulbs and put resistors in series with them. To figure the resistor value = (19V[track voltage]-14V[bulb voltage])/0.06A[bulb amperage] = 83 ohms. Use any standard value from 82 ohms to 100 ohms should work fine. The wattage rating of the resistor needs to be 1/2 watt.
If you want to use 12V or lower voltage bulbs and want something that will keep the lights from flickering when you hit a dirty spot, use the 12V power supply circuit described below.


RECOMMENDATION 12-4: 12V Power Supply Circuit — Millions of Uses!
Do you need a circuit that will power sound systems, light cars, anything you can think of, from DCC or 12VAC? Here it is, in this example, it is used to power a sound system. It consists of Z1, C3, C4, C5, and usually a 7812 voltage regulator. The red and black wires have the 12VDC on them. This circuit can produce up to one amp.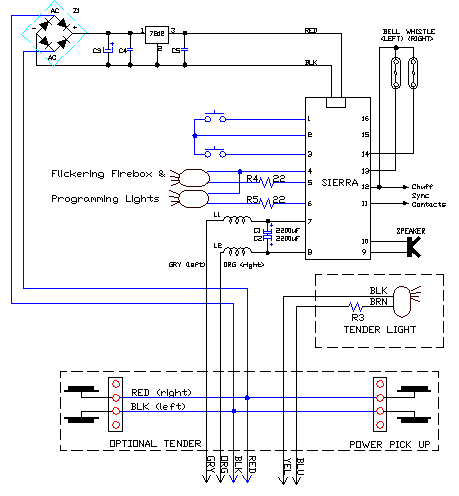 C4 and C5 are 0.01uF capacitors rated at typically 50V — they are common. Z1 is rated at 1A and 50V — also common. C3 is usually rated at 25V and for starters, is a 1000uF capacitor.
There are a lot of variations on this circuit.
This is very compact and can fit in a Z-scale car if you are determined enough. There are many ways to make it smaller. Many of your uses don't draw anywhere near one amp. Therefore, you can forget putting a heatsink on the voltage regulator. Another way to make the circuit smaller is use components that are rated closer to the voltage you will be applying to the circuit. For example, C4 and C5 can be gotten in 25V and sometimes lower voltage ratings. C3 can definitely be gotten in 16V ratings. Don't worry about Z1. Its size isn't affected by applied voltage.
There are few cautions I must give you.
1. If you are running this from a 12V transformer: You probably aren't concerned about size. So use 25V or higher components. Without getting into the technical details, a 12V transformer, usually puts out, as far as these components are concerned, almost 18V. Note: With DCC, this isn't an issue.

2. If the voltage rating of C3 is below the applied voltage IT WILL EXPLODE: Got your attention, did I? There is a safety margin built into these devices. But if you apply too much voltage to C3, an electrolytic capacitor, IT WILL EXPLODE WITH INJURY, ESPECIALLY TO YOUR EYES, POSSIBLE.

3. If you hook up C3 backwards, IT WILL EXPLODE regardless of whether you applied too much voltage or not.
So whatever you do, don't undersize C3. It's okay to have it just big enough, but don't make it too small. Also consider whether you will be taking your car with this circuit in it to another layout running a higher voltage.
Another size choice you can make is using a lower value of capacitance for C3. If you are running the circuit off of 12VAC and you want an amp, use the 1000uF capacitor. But at DCC frequencies, a smaller capacitor can still produce an amp. If you are putting this inside a car, you probably don't need anywhere close to an amp. So you can probably use a 100uF or a 47uF or maybe even a 22uF or a 10uF and get the results you want.
On the other hand, the larger the value of C3, the more immune the circuit will be to dirty track. In that case, you may want to stick with the 1000uF or go up to 2200uF, 3300uF or larger. Larger values, especially when you are drawing much less than an amp, may allow something, like lights or a sound system, to stay on for a few seconds upon loosing DCC power. Maybe you want that.
The voltage regulator shown is a 12V one, but you can get them in other voltages as well from the same company you would buy the 12V regulator from.


SUGGESTION 12-5: How to Get 1.5VAC to Run Grain of Rice Bulbs
This has nothing to do with DCC. Call this one a bonus.
1.5V is somewhat of problem to get. Common voltage regulators don't go this low. Modelers have come up with some interesting ways to get 1.5V. Because they often had some sort of drawback, I came up with my own way of doing it. It's simple!
This idea works great and is easy to implement in countries using 120VAC out of the wall or approximately that amount. This idea can still be used in other countries, but its ease of implementation will depend on what voltage transformers are available.

ONLY do this if you FULLY understand what I am talking about. If not, get with an electronics friend of yours to help you out. Before putting this circuit into operation, test it with a voltage meter connected by clips. DO NOT be touching any of the wires with your fingers when testing it. FAILURE TO HEED MY WARNINGS COULD BE FATAL.
What I am about to suggest is common. Its how power gets from a power plant to your house - through the use of multiple transformers. However, even if you have done electronics projects before, you may have never hooked multiple transformers together. So this may seem odd or confusing to you. If it is, DO NOT DO IT. IT COULD KILL YOU if hooked up wrong.
Here's the idea. Take two transformers, each with 120V in, and 12.6V out. Each has a voltage transformation ratio of less than 10.
1. With a fuse and a switch, wire the first one up so you can plug it in the wall. You will get 12.6VAC out.
2. Take the second transformer. Instead of connecting its wires that are labeled 120V to 120V, connect them to the 12.6VAC of the first transformer. You will get about 1.3VAC!
Note: You could have one transformer putting out 12.6VAC. You could run this 12.6VAC around your layout. You could then have a small transformer in each town to produce the 1.3VAC to light that town. Or you could just run the 1.3VAC around your layout. Which way to do it, is up to you and what you are modeling.

If you are in a 110/120V country, T1 and T2 should be 120V:12.6V transformers. In a 220/240V country, T1 should be a 220:25.2V transformer. T2 should be a 220:12.6V transformer or the nearest equivalent. The fuse, F1 should be no larger than ¼ amp.
CONSTANT LIGHTING CIRCUITS
Power Supply Considerations
Below are a number of circuits with differing power supply circuits. Since DCC is constant voltage square wave AC, for the most part, the circuits below are interchangeable. Even the most sophisticated circuit with a 10,000 micro-farad capacitor and a LM317T regulator is not expensive. So you have choices. This section aims to help you to decide which one is right for you.
Before I dive into LEDs, note the circuits for the Tomar marker lights that use 1.5V lamps. The trick you will see with two diodes that are around each lamp can't be used with LEDs.
From an electronics standpoint, LEDs don't require fancy power circuits. As long as you don't exceed their design limits, they will work. If the lighted car stops on a dead frog, the LED will simply go out.
On the other hand, a coach that goes out when stopped on a dead frog or flickering a little bit as it rolls down the track may be something you may feel you want to avoid at any reasonable cost.
Perhaps the biggest drawback to the most sophisticated circuits is finding a place inside a coach to hide it.
So here are the considerations on the circuits below:
Circuits using the LM317T regulator will likely provide the least amount of flicker. The package that it comes in is shown below. Buy one and see if you have room for it. Note that the circuits using the LM317T can probably only supply enough voltage to power two white LEDs in series.
Circuits using large capacitors (2,200 - 10,000 microfarads). The higher the value of capacitor, the bigger it physically is. Buy one and see if you have room for it. Capacitors larger than 2,200 microfarads will need some sort of circuit to limit inrush current and tripping your booster off line. The circuits below showing the 100 ohm resistor and the 1N4148 diode limit inrush current. While all the large capacitors shown below are also shown with LM317Ts, you do not have to use them with LM317Ts. If you use large capacitors with LM317Ts, you will only be able to use with two series LEDs. If you don't use the LM317T, you will be able to use them with three series LEDs. Four will not be possible.
Finally, the simple circuit that does not use the LM317T, large capacitors, and an inrush current limiting circuit, will be the cheapest, the smallest and easiest to hide, but will be the most susceptable to flicker or going out completely. Four white LEDs in series is poss
Should you decide you would like the LM317T circuit in places with room to hide and less sophisticated circuits where you don't have room, with a little work, you can brightness match the different circuits.
Circuits contributed by Don Vollrath. Ask Don questions on the Wiring for DCC Q&A Forum.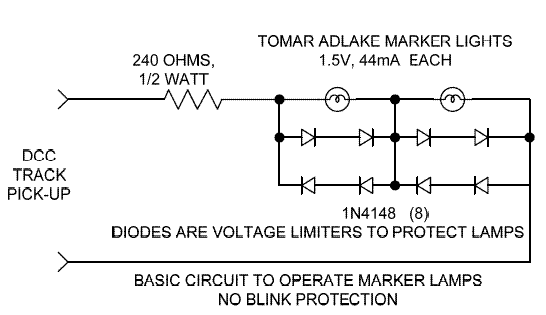 Three circuits are designed to operate Tomar Adlake incandescent marker lights which look great on a caboose. Each one gets progressively better as you run down the page. Operating the lamps in series keeps the current draw from the track as low as possible. The diodes in parallel with the lamps in the first two examples form a shunt regulator to limit the voltage across each lamp to about 1.3V... even if one lamp burns out. This is a good brightness value and extends the operating lifetime. One can use a 220 ohm resistor for a little more regulated brightness if necessary. If operating in a really dark room one can increase the current limiting resistor value to 270 or 330 ohms for a dimmer, more realistic look.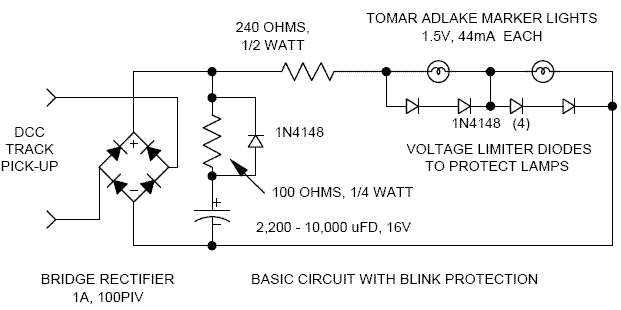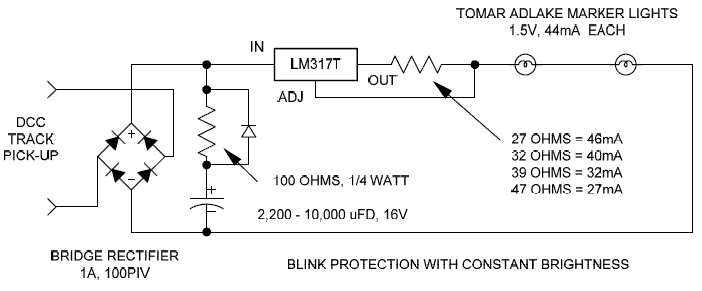 The other two circuits use the LM317 as a current source limiter. This works best to hold the lamps at constant brightness during interruptions of power from the tracks as voltage on the energy storage capacitor decays.


If you haven't read the section above on power supply considerations, click here.
The last circuit shown is for LEDs. However, it has a practical limit of only 1 or 2 white LEDs at constant brightness with their nearly 3.5V operating voltage. One can successfully operate 1-3 LEDs of other colors due to their lower operating voltage requirements.

If more lamps are desired one can add a second regulator and lights in parallel with the first, taking power from the same energy storage capacitor.

In each circuit one resistor adjusts and limits the current to control brightness. The Tomar marker lights look best when operated at 30-40 mA. Usually 8-15 mA is bright enough for LEDs. Using high brightness LEDs at lower current will provide the longest power interruption time ride-through.
Parts List
I have provided a Radio Shack parts list for the above circuits. Radio Shack doesn't sell all values as specified in Don's circuits. Use the nearest value.
The value of the capacitor is not critical. Simply the more capacitance you have, the longer the lamp or LED will stay lit when you hit a dirty spot. Capacitors can also be put in parallel to get whatever value you are after. Also, you may want to use more of the smaller value capacitors to give you more flexibility and deal with whatever space restrictions you have. So you could use 10 1000uF or 2 4700uF or even a 1000uF capacitor in parallel with a 4700uF capacitor.
| | | |
| --- | --- | --- |
| Part | Description | |
| Diode | 1N4148 | 276-1620 |
| Resistor | 22 ohm, 1/2 W | 271-1103 |
| Resistor | 33 ohm, 1/2 W | 271-1104 |
| Resistor | 47 ohm, 1/2 W | 271-1105 |
| Resistor | 68 ohm, 1/2 W | 271-1106 |
| Resistor | 100 ohm, 5%, 1/4W | 271-1311 |
| Resistor | 150 ohm, 1/2 W | 271-1109 |
| Resistor | 220 ohms, 1/2 W | 271-1111 |
| Resistor | 270 ohms, 1/2 W | 271-1112 |
| Electrolytic Capacitor | 1000uF, 35 WVDC | 272-1032 |
| Electrolytic Capacitor | 2200uF, 35 WVDC | 272-1020 |
| Electrolytic Capacitor | 4700uF, 35 WVDC | 272-1022 |
| Bridge Rectifier | 1.4A, 100V | 276-1152 |
| Voltage Regulator | LM317T, 1A | 276-1778 |

A picture of the LM317T in the TO-220 package is shown here.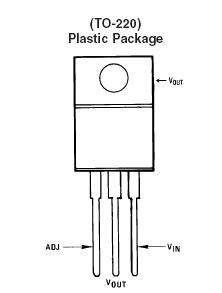 Constant LED Lighting for Passenger Cars and Cabooses
Polarity Issues - Read this FIRST!
All the components you will use in this section are polarity sensitive except for the resistors. Polarity sensitive means there is only one way to hook things up for them to work right.

A resistor
Capacitor Safety

If you hook up the capacitor wrong, it will explode or catch fire! This could result in burns, severe injury to your eyes or blindness, a melted model, or damage or loss of your property.

Wear safety glasses or googles. If you follow the directions here carefully, capacitors are safe to use.

If you see a capacitor begin to swell, duck below your table top. If you can do so rapidly, kill the power on your way to the floor.
Capacitor polarity: Capacitors have two leads; a positive one and a negative one. Generally, only 1 lead is marked; positve or negative.

A polarized capacitor
There are two ways you can get a capacitor wrong in a power supply circuit like the one you will be building here. One, is to hook up the capacitor wrong to the rectifier circuit. Two, is to have your rectifier circuit backwards. Both situations will cause the capacitor to explode or catch fire.
Rectifier polarity: Bridge rectifiers have a positive (+) and negative (-) output.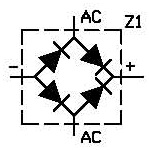 A bridge rectifier
If you don't already own a digital volt meter, invest in one now. Feel free to buy the cheapest model you can find. It will do fine. Put it on DC-Volts and select the 20V range.
Attach the red lead to what you think is the positive (+) output. If you bought a bridge rectifer, the outputs are usually marked. Hook the black lead to the negative (-) output. Hook the AC inputs of the bridge rectifier to your track. If you have everything right, you should read around 13 or so volts. Most importantly, you should see a positive number. If the digital volt meter is reading a negative -13 or so volts, you are reading your bridge rectifier wrong. Swap your meter leads to get a positive number.
Once you know which output of your bridge rectifier is positive and negative, it is now safe to proceed.
LED (Light Emitting Diode) polarity: If you hook up an LED wrong, it simply won't work. Hooked up incorrectly briefly usually won't damage the LED. If using an LED with leads, the shorter lead is the negative (-) lead. These same type of LEDs have a flat side on them, the flat side denotes the negative (-) lead. The flat side may not jump out at you. Just rotate the LED is your fingers and you will feel the flat spot go through your fingers.

A LED
You can also determine the polarity of an LED by setting your digital meter to the diode/continuity setting. If you intend to use this method, make sure your meter has such a setting. Usually, it will be denoted by a diode symbol on it's dial. Hook up the meter to an LED. If the LED lights up a little, the terminal on the LED that is attached to the red lead of your meter is the positive (+) terminal and the black lead is attached to the negative (-) terminal. If it doesn't work, try swapping the meter leads.
The polarity of an LED is denoted in schematics by a short line at the head of an arrow. The line denotes the negative (-) end of the LED.
Overall Circuit - aka Start Your Project Here:
There are a large variety of configurations you can use to light your passenger cars and cabooses. All of them require the basic circuit below with the bridge rectifier and capacitor. Then you need to decide, are you lighting a passenger car (generally a coach)? Will your passenger car (generally an observation car), have markers? Will the observation car have a drum head? Or are you lighting a caboose? Will it have markers? If you answered "yes" to any of these, you will need to wire in one or more of the optional circuits. Below the basic circuit, are a variety of circuits to be used in place of one of the optional circuits referenced in the basic circuit below.
Each optional circuit you use, should have its own resistor so that you can adjust its brightness independently of the other options. For example, you may want your interior brighter than your marker lamps. So their brightness should be set independently.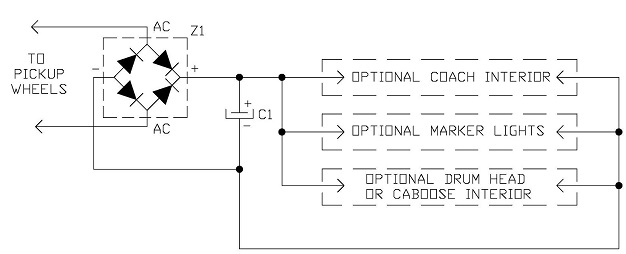 Component

Z1 bridge rectifier, 1A

621-DF04M

C1 470uF, 25V capacitor

667-EEU-TP1E471L

C1 220uF, 25V
capacitor

667-EEU-FC1E221

667-EEU-TA1E101
If you haven't read the section above on power supply considerations, click here.
General Component Selection:
You don't have to use the specific parts I have identified. I just gave you specifics so that not knowing anything else, you can buy something that will work.
Capacitor Selection:
The purpose of the capacitor is to smooth out fluctuations due to dirty track and other discontinuities like going over points, frogs, and insulated joiners. Since DCC is a high frequency square wave and all you are driving are LEDs, one of your options is to not use any capacitor at all! If you have really good track, turnouts, and lots of good contacts on your wheels, you may not notice any flickering or not flicker as much.
You probably won't be that lucky. Sooooo......
The more capacitance you use, the more tolerant your lighting system will be to dirt and discontinuities. It is a little difficult for me to tell you just how much is the maximum you can use. I used a 2,200uF (microfarad) capacitor on a small starter DCC system. It worked fine. However, if you have a number of passenger cars, all with 2,200uF capacitors in them, your DCC system may see them all as a short. There are ways to limit the inrush current so this doesn't happen. The circuit will be more complicated. Which means it will be harder to hide your circuit in a passenger car. This will be the topic of a future addition to this website.
With the 2,200uF capacitor, the LED was bright for about 1-1.5 seconds. Then it stayed lit for many seconds with the LED configured to draw 20mA (milliAmps or thousandths of an amp.) If you don't have your lighting configured to draw this much current, then the LED may stay lit brighter longer. The good news is that 20mA may make your coach interiors too bright. You may find coach interiors will only need 5-10mA. Markers may only need a couple of milliamps.
If you use a 470uF capacitor, you can probably put one of these in each car and not adversely affect the short detection of your DCC system. You can also use a 100uF or 220uF capacitor. The lower the value, the less discontinuity protection you will have, but the lower the value of the capacitor, the smaller it is. So if you are pressed for space, you may want to use one of these lower values.
In a coach, with little room to hide things, you can also buy several 100uF or 220uF capacitors and put them in parallel. You will be able to better hide these smaller capacitors along the ceiling of the coach.
You may have noticed that the values of capacitors seem to have odd values. They do! These are standard values. You can't readily buy a 200uF or 500uF capacitor. Don't loose any sleep over this.

Electrolytic capacitors have a capacitor value in microfarads and a voltage rating. I recommend using one rated at 25V. If not building Don's circuits with the current inrush limiter, using one rated at a lower voltage is risking. If your track voltage is a little high, the capacitor could explode.
LED Selection:
This section is one I intend to expand with part numbers and parameters to help guide you in the selection of LEDs. For now, I'll just list the general considerations.
I'll start off with a downside to LEDs. Miniature lamps give off light in all directions. LEDs don't. Some have a dome and give off light up to 180 degrees. But most are not much more than about 55 degrees. Given this, this may be one reason you will want to light your coaches with pairs of LEDs - one pointed to each side or down the length of the car. The angle of the output light will be the subject of a future addition to this section of my website.
If you have ever bought a lightbulb at your local home improvement store, you may have noticed that you can buy different shades of white. If you didn't notice this at the store, then when you got home, you may have noticed that you new light bulb doesn't match your existing light bulbs. The same is true of LEDs. These different shades of white is called color temperature. (This is the same thing that your digital camera uses in setting white balance.)
If you want a LED that resembles a typical incadescent bulb, you want a "warm white". This would be appropriate for coach interiors, head lights and mars lights. If you want a beacon, you will want a whiter white like daylight white. Some white are bluish as you may have noticed on some modern automobiles. Unfortunately, many LEDs are sold without telling you what shade of white. This will be a topic of a future addition to this website as I try to help you out with this.
Another thing to notice about LEDs is that some are diffuse are some are more specular. You cannot see the LED device inside a diffuse LED. The specular ones, you can. For lighting coach interiors, drum heads, or beacons, I recommend the diffuse ones. For headlights and mars lights, you could use the specular ones.
LEDs come in different shapes and sizes. The typical through-hole ones come in 3mm and 5mm or even bigger. I think in most cases, you will want the smaller 3mm ones just because they fit inside models easier.
Some LEDs don't have leads. They are called surface mount devices. Unless you are really good at soldering, you will probably find these difficult to solder to.
Selecting Resistor Values:
For each circuit, I have created a table of suggested values for the resistors. There are other values of resistors you can use. Just be sure to at least use the lowest value I have shown in each table. Any higher value is fine.
You can either try different values or use a resistor selector box or resistor decade box. I have a good selection of resistors, so I just try different values to suit my objective. You can also build a resistor selector box.
You will notice resistors come in the same seemingly crazy values like capacitors! There is actually a good reason for this, but I won't bore you with those details.
I have listed the resistance value in ohms, and the size of resistor to use. The smallest wattage rating I have listed is a 1/4W. In many cases, a lower rating could be used. But the parts tend to be very small making them harder for you to work with them. So a 1/4W is the smallest size I suggest you use.
The Optional LED Circuits
I have a number of LED configurations below. Instead, I am identifying them by the resistor used to limit the current.
You will notice that the maximum number of LEDs I have in series in any of my circuits here is 4. This is because of the amount of voltage it takes to run each LED. So you can have 4 or less LEDs in series, but not more. If you need more LEDs, you can put more in parallel.
R6 Circuit
Here is a circuit that you can use to light the length of a coach or when you only need a total of four internal LEDs.

| | | |
| --- | --- | --- |
| Brightness Current | Resistor Value | |
| 20mA | | 660-MF1/4LCT52R100J |
| 15mA | 13 ohm, 1/4W | 660-MF1/4DCT52R13R0F |
| 10mA | 20 ohm, 1/4W | 660-MF1/4CCT52R20R0F |
| 5mA | 39 ohm, 1/4W | 660-MF1/4DCT52R39R0F |
| 3mA | 68 ohm, 1/4W | 660-MF1/4LCT52R680G |
| 2mA | 100 ohm, 1/4W | 660-MD1/4CCT52R1000F |
R6 Table
R7 Circuit
If you need three interior LEDs, here is the R7 circuit.

| | | |
| --- | --- | --- |
| Brightness Current | Resistor Value | |
| 20mA | 180 ohm, 1/4W | 660-MF1/4DCT52R1800F |
| 15mA | 220 ohm, 1/4W | 660-CF1/4CT52R221J |
| 10mA | 330 ohm, 1/4W | 660-CF1/4CT52A331J |
| 5mA | 680 ohm, 1/4W | 660-MFS1/4DCT52R6800 |
| 3mA | 1.1K ohm, 1/4W | 660-CF1/4CT52R112J |
| 2mA | 1.6K ohm, 1/4W | 660-CF1/4CT52R162J |
R7 Table
R8 Circuit
If you have two marker lamps, you might use this circuit. Note that if you need two LEDs, I recommend using the series combinations rather than the parallel pairs, as they will use less current. If you are using a capacitor, this means that the LEDs will remain lit longer due to discontinuities in picking up track power.

| | | |
| --- | --- | --- |
| Brightness Current | Resistor Value | |
| 20mA | 330 ohm, 1/2W | 660-MF1/2LCT52R331J |
| 15mA | 430 ohm, 1/4W | 660-CFS1/4CT52R431J |
| 10mA | 680 ohm, 1/4W | 660-MFS1/4DCT52R6800 |
| 5mA | 1.3K ohm, 1/4W | 660-MF1/4CCT52R1301F |
| 3mA | 2.2K ohm, 1/4W | 660-MFS1/4DCT52R2201 |
| 2mA | 3.3K ohm, 1/4W | 660-MF1/4CCT52R1332F |
R8 Table
R5 Circuit
Finally, if you need just one LED for say, a drum head, use this circuit.

| | | |
| --- | --- | --- |
| Brightness Current | Resistor Value | |
| 20mA | 510 ohm, 1/4W | 660-MF1/4LCT52R511J |
| 15mA | 680 ohm, 1/4W | 660-MFS1/4DCT52R6800 |
| 10mA | 1K ohm, 1/4W | 71-RN60D-F-1.0K |
| 5mA | 2K ohm, 1/4W | 71-RN65D-F-2.0k |
| 3mA | 3.3K ohm, 1/4W | 660-MF1/4CCT52R1332F |
| 2mA | 5.1K ohm, 1/4W | 660-MF1/4LCT52R512J |
R5 Table

Resistor Substitution Box
A resistor substitution box allows easily to select from a range of resistors allowing you to easily figure out which resistor value is good for you. Elenco makes several low-cost resistor substitution box kits.
Elenco doesn't sell direct. So click on the links below, search for "Elenco resistor substitution box", or buy one from Amazon. Spoiler alert: Amazon isn't necessarily the cheapest.
Model K37 This kit is about $15. It does not include a soldering iron.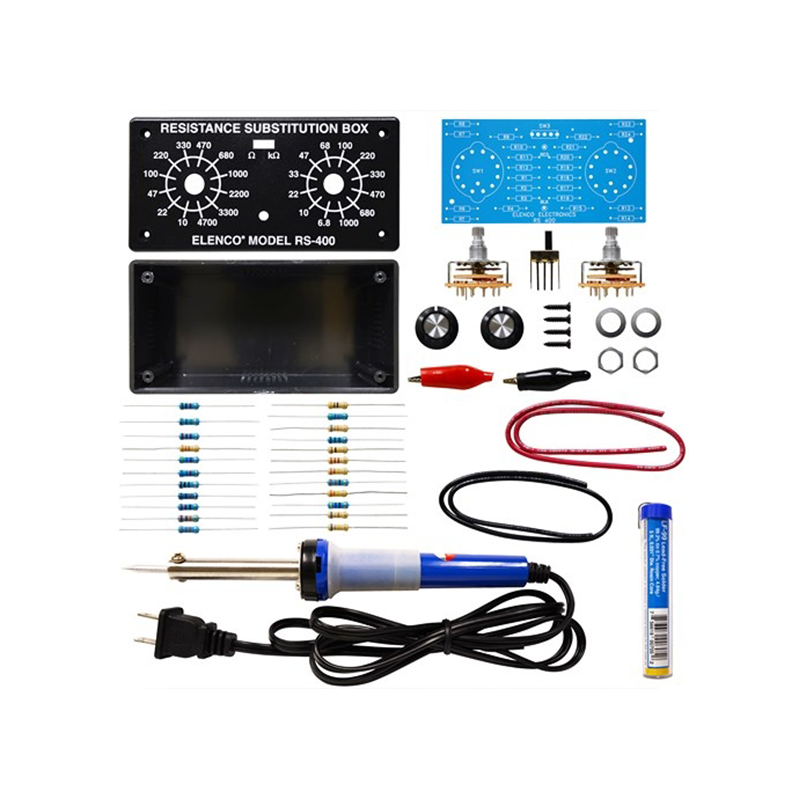 Model K-37SLD This kit is about $17. It includes a low-cost soldering iron and solder.
Model RS-500 This box costs about $27. You can select any value from 1 to 10,000,000 ohms. While you can select any value, it is slower to flip all the switches than rotate the knobs of the K-37 model. Most importantly, if you don't keep a minimum of resistance selected, you could easily blow your LED.
For the average person, the K-37 or K-37SLD will do the job you need. The RS-500 is for the advanced electronics hobbyist or for someone who is really particular about selecting your LED intensity. Just beware that if you are particular, you will have to buy multiple resistors to achieve the value you have determined because not all values are manufactured.